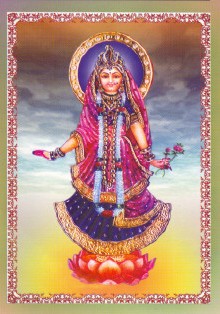 " Radhaji is the Swamini, the life force of Krishna who is Sacchidananda, the Complete God. Rasayogi is the yogi who can also provide rasa. Mother gives rasa towards the end in Her dham. A Rasayogi can become a siddhapurusha (endowed with powers) whereas a siddhapurusha cannot be a Rasayogi. I contact Mother directly. I realized that Radha is the highest deity. "

" There are only things in this world - mind, society and Mother. You must satisfy all the three. Such a life is a yogic life. You must not live the life of a yogi; you must make your life a yoga. You must be in the bhava that 'I am moving in Mother's path. There are no hurdles in my way.' I thought 'Mother, my life will reflect You. I will show You to the whole world.' This is my message to the world. Mother told me 'I will show Myself through you. I shall be with you only.' "

" There are ten books, five on either side of Her portrait. That is Her form idol while this (name) is Her sound idol. That is the mahamantra! "

" When dhyana yoga reaches the peak, you will not leave Mother even for a moment. 'Mother, You must personify in my mind, word and action and lead me forward. I wholeheartedly pray to You to transform my family life into a dhyana Centre.' She will certainly bless you in this way. "

" When you are lured by worldly attractions, the soul gets impure and descends. It takes hardly ten minutes to fall but several lives to regain that original elevated state. Since it is not easy to regain the original state, we must handle the mind carefully and keep it clean. Just as we cross the river with the help of a boat, we must move upwards with the help of our mind. Wherever there is real and intense yearning for God, Mother will make Her presence in the very next second. She will be pleased with them and show them the right path. That is the law of nature. Divine grace flows like a mighty ocean. You must weep for God. That is the rule. Unless you become detached from the world, you can never attain God. Witness consciousness is very great. I practiced only detachment, inwardness and surrender. They form my life. I am a sakhi. Though I have a male form, I am a sakhi within this body. "

" My religion is not a vacuum, it is Mother's religion. Radhaji is my life, my wealth and everything to me. "

" Mother is always in silence. She is dynamic and accomplishes Her works. We are associated with Mother owing to the good fruit of our previous lives. "

" The atmosphere in Brindavan suits me. I feel Radhaji's movement here. I don't need any other sadhana. The grief of separation from Her is unbearable. She will not allow me to face that grief. "

" I want to leave three chains in this world for Mother's service - Her functions, printing books and dhyana yoga. Her name must be chanted all over the world. "

" There is constant Rasa in Her world. I am also a part of that Rasa. "

" I can do whatever a human being cannot do. I am doing also. Mother does whatever is not possible by man. "

Radhe Radhe Radhe
Sri Radhika Prasad Ji Maharaj