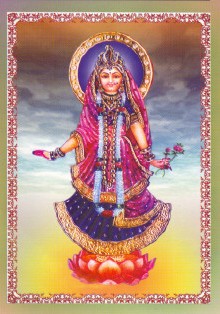 " The proof that we are alive is our life force. That life force is Radhaji. If we forget Her, it means that we are dead. She is the Sovereign of rasa. Krishna does not have authority to begin Rasa. I have seen this! I do not want God; I want God's rasa. You can reach Mother only by the path of rasa. "

" It is a sin to consider Radha as Krishna's wife. Even Brahma who is supposed to solemnize their wedding does not have a body. Radha and Krishna do not possess a body. Then how can they be wed? Actually they are not different entities; they are only one; only rasa! "

" Even though the celebrations are for a divine cause, you must not beg for money. Mother said 'If you stretch your hand and beg, you will move away from Me'. I will not ask anybody for anything; not even Mother. Even after I leave, Mother's functions must continue. I will not come back again. This is my last life. Radhaji is all pervading. I have seen Her all pervading nature on a few occasions. "

" When I decided to go to Brindavan, stay there and look after some matters, I faced a lot of problems. With determination and Mother's grace, we are in this position today. One must have the determination. Bhava is above prakriti. Bhava is God; I belong to the divine dham. Going there is my birth right. Originally, by nature we all are parts of the divine-God! "

" The jeeva who considers even enemies as his people will go higher. The jeevathma intrinsically has the power to convert the atom into infinity! India is the birth land of dhyana where many yogis and yoginis live. Only yoga can uplift you. My initial yogic state is due to my grandmother, a great yogini. "

" Mother never leaves me; I am never without Mother. See the world through Mother. She has two faces-inward and outward. You must server both. I worship love. I am love's child. If you are not serving Her inwardly and outwardly, your penance will not ascend even after many ages. True dhyana and seva must be done secretly. "

" Krishna is one of the many aspects glowing in Radhaji. This is a yogic secret. He is a permanent occupant of one part of Radhaji. This is ascertained by the Vedas. Pink color symbolizes Radha. Krishna's deity of worship is pink color. They are eternally one and only one! They may appear to be two for the sake of leela. When these volumes (books) are completed, I will go back near Her because I cannot live without Mother. I am a strict follower of Radha. "

" I don't have any sufferings related to karma. I have no link with this body. Mother is always in my heart. The love in Her world is unimaginable and beyond understanding. I have nothing except penance. I am teaching you how to hold Mother just as I held Her. That is dhyana yoga. Radhaji's form is silence. If you will hold Her, She only will protect you. This is my message. "

" Mother is watching from our heart and taping everything. She is present in the dhyana of yogis. The first condition to woo Mother is vow of austerity. Mother comes near me. She showed this vision to some people. Mother who came near me will come near you also. You must seek Radhaji's shelter! "
Sri Radhika Prasad Ji Maharaj