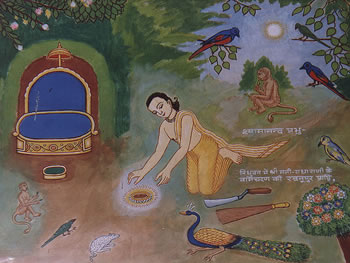 Sri Syamananda
The transcendental Rasic life of Sri Syamananda

In Vrindavan there are several traditions of Devotional Love. Sri Syamananda tradition is one among them. Syamananda was a Rasika Bhakta (Devotee of Radhaji) His life was very sacred and he dedicated his whole life at the Lotus Feet of Sri Yugal - Radhakrishna, and consecrated it in their service. His ethereal life had been a guiding star to the world of spiritual seekers.

In the beginning Syamananda was a well-known devotee of a Goudiya Math in Vrindavan.His Guruji was Hridayanathji. With an ambition to have the Divya Darshan of Sri Syama Syam he was serving his Gurudev. But the 'Guru' has not instructed him any 'mantra' or any path of worship. He showed a bowery (Kunj) and told him to do the service of the Kunj. Syamananda regarded the instruction of the 'Guru' as the Mahamantra and was serving Sri Radhaji as much as he could in the Kunj shown by the Guru.

Gradually his devotional fervour got intensified and reached the pinnacle. He used to feel the presence of Radha Krishna everywhere, in the animate and the inanimate. He felt that the gentle blow of wind as the movement of border of garment worn by Sri Radhaji, the warbles of birds of the Kunj as the musical notes emanating from words of Sri Kishori, the silences of the nature as her radiant beauty at sleep. In this way he had been worshipping Radhaji both as form and as formless and leading his life in an absorbing devotional love.

One day at the early hours Syamananda was cleaning the Kunj as usual. Due to the Sankalpa (intention) of Divine Mother that day he found a Golden Anklet near a flowery shrub. As soon as he touched it the currents of Divine Bliss flowed through the body and his eyes started shedding tears. Soon he realised that the anklet was not an ordinary one and surmised that it could have been worn by Sri Radha Rani herself. He carefully tied it in his angavastra and kept safely in his dhoti.

At the Sri Nikunja while Sri Radha was relaxing after Ras Leela, Lalitha Sakhi watching the feet of Sriji said, 'Devi, why is your anklet not seen". "Sakhi", replied Sri Radhaji, "we have come by the side of Shyamananda's Ashram. It might have fallen there. Please go there personally and bring it back" Sri Kishori said sweetly.

At the instance of Sriji, Lalitha Sakhi assumed the form of a Vraj woman and came to the Ashram of Syamananda. "Syamananda, my daughter-in-law went past your ashram yesterday. She missed her golden anklet somewhere here. You might have got that one. Please give it back" asked Sri Lalitha Sakhi. Syamananda replied, replete with amazement, "Is your daughter-in-law so great? Do you think that the ornament is an ordinary one? With its touch or sight itself I get inexplicable Divine Happiness. I am sure it doesn't belong to your daughter-in-law" replied Syamananda firmly. Forthwith, Lalitha Sakhi gave him the darshan of her real form (Nijaroopa). Syamananda prostrated before her. "I am blessed, Amma, with your Darsan". He continued, 'Unless I see the person whom this anklet belongs to, I cannot give it back Amma". Shyamananda humbly confessed her. And Lalithaji disappeared. Lalitha Sakhi narrated the happening at Syamananda Kunj to Radhaji.

Pleased by the devotion of Syamannada, Radhaji intended to personally visit Syamananda's Kunj. With the Divya Darshan of Hari vallabha, quivered Syamananda wept for a long time. Even at this juncture he did not forget the goal of his life - Sri Yugal Darshan. He prostrated before Sriji and said "He' Radhe, I am elevated", and continued with humble voice, 'Sri Radha cannot be without Krishna. But the Vrindavana chandra (the moon of Vrindavan) is not here, Amma". Sri Radhaji, the ocean of compassion, has conferred the darshan of Sri Krishna. Looking at Syamananda, Syam Sundar said "He Radhe, your devotees are very mischievous". Radhaji replied "He wanted your 'darshan' also. That is why I asked you to come here". While saying so Radhaji asked Syamananda to give back her anklet.

Blessed with his ultimate destination, Syamananda's body, mind and soul were passionately looking for the touch of Radhaji. Somehow controlling his mind from the currents of Divine Ecstacy, he prayed "Amma, I adorn your foot with this anklet to see whether it befits you'. She kept her feet (inaccessible even to Brahma, Rudra, Narada and the like) upon the thigh of Shamananda. What a great fortune Syamananda had. The Feet that were carefully adorned by Sri Krishna were right in his lap. While tears of Divine Love rolling on his cheeks, in a strange Divine Bhav, Syamannada bent forward to adorn the anklet. The next moment he was immersed in Bhava Samadhi and when he regained conseiousness no one was there around.

Replete with inexplicable Rasika Bhav (Intense Divine Feeling of Rasa) Shyamananda ran towards his Guru Hridayanathji. Soon the Guru questioned Syamanada, "Have you been converted to any new tradition? If not, how that red musk (tilak) appeared on your forehead"? Syamananda narrated the entire happening to his Guruji and said that when he had fallen on the Lotus Feet of Radhaji, the red colour of Her Feet might have stuck to his forehead. "Another lie", remarked the Guru. "Are you such a great person? When many great souls are immersed in sorrow for not having Her Darshan, did you get the darshan of Radhaji"? Ridiculed the Guru. Syamananda immediately replied with humility. "Gurudev, you have complete authority upon me. You have right even to efface this 'thilak'. If you like, you may do it". As the Guru was about to raise his hand to clear the red musk (the tilak), a beautiful, smooth and shining hand of a little girl came in between. With this Divya Darshan, the Guru cried 'Amma Radhe, Radhe, is it you, Amma, is it you? ...." and fell unconscious.

The next moment Syamananda became ecstatic and ran into the streets of Vrindavan loudly crying "Shyama, Shyama".... Many residents of Vraj chased him. Syamananda later jumped into the pond 'Syam kund'

Next day inspite of intense searching within the Kund, his physical body could not be traced. Sri Radhagovind have taken him into their Eternal Play.

During the construction of famous Syamkund 'the Five Pandavas (Pancha Pandavas) appeared to one of the organizers in the dream and told that they were meditating there taking shelter within the trees adjacent to the Kund. The organizers constructed the Kund keeping the trees intact. Due to this reason the beautiful Kund got the shape of slightly Irregular Square.

Subsequent to the Rasic life of Syamananda a tradition by his name became popular in Vrindavan. Followers of this tradition wear a straight red-tilak upon their forehead. To eternalilse above transcendental leela they built Radha Syamsundar Temple in Vrindavan and dedicated it to Sri Radhaji.

Even today Sri Radhaji and Her Sakhis and Sri Syamsundar are worshipped as living manifestations in Vrindavan. That day while leaving for Mathura 'Bala Gopal' has promised his mother Yasoda-Vrindavan parityajya padamekam na gachati (Leaving Brindavan I do not make a step ahead).

As He promised then, even today the plays of Radha Krishna are continuing in Vrindavan. It is due to the 'promise' lakhs of devotees and pilgrims are attracted to Vrindavan every day. Because of the influence of this 'promise' nearly 6000 temples are built in the sacred Divine Abode-Vrindavan.